The Toaster Oven from Spookyville
All of these years, I have been the only human on Earth who doesn't own a toaster oven (well, me and the Amish). But
I went to Target last week and got myself a neat-o model.

After a few days I noticed the lettering on the front right corner of the oven window that says something like, "If a fire should erupt, keep the oven door closed and pull out the plug."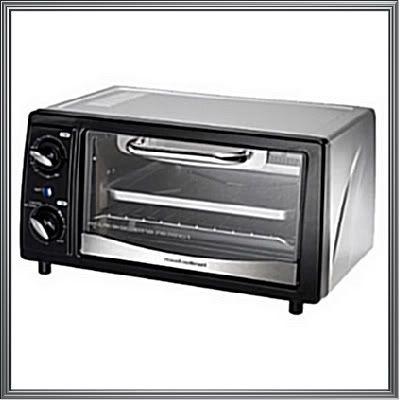 Not my model, but close. Very close.
Things go on fire in there? Really?
So now I stand and watch everything I cook. If it takes 20 minutes, I'm standing there staring at the oven for 20 minutes, or I pull up a chair and stare. I'm glued to the front of the toaster oven and try not to blink.
And it makes inexplicable, ear-piercing clanging noises as if it's possessed. Loud, clanging sounds, like a ghost wearing heavy chains and dragging its feet. I'm surprised it doesn't cry out "Mary! Mary!" or "Boo!"or "Is Jack Nicholson available if they turn this into a movie?"
It's the toaster oven from the town of Spookyville, but it's mine and I'm loving it. I'm in the twenty-first century now, baby. Next I might buy a blender. Yes, a blender.